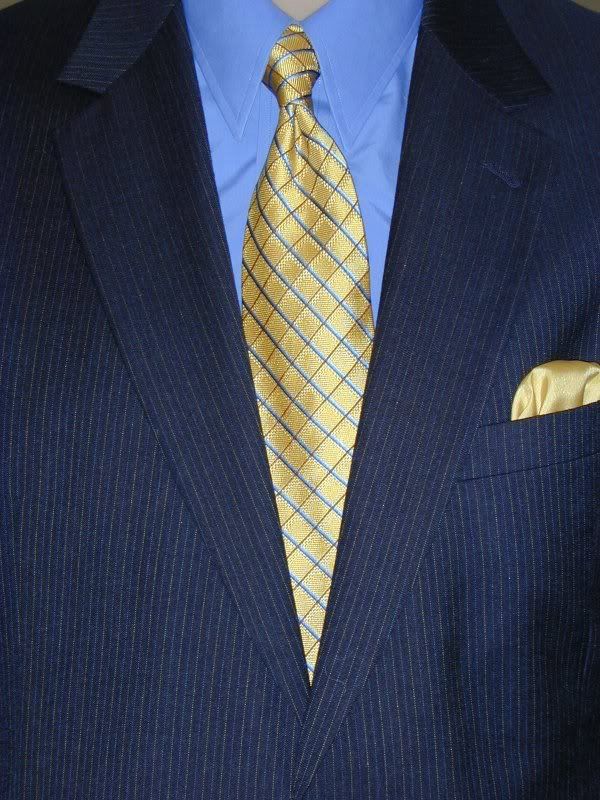 Brand new! It's a charcoal gray with alternate blue and gold pinstripes. Pretty sharp. And the pants match too! It's a Jos A. Bank Signature Collection. Yeah, I know I'm a little stuck on the Signature stuff but at the price it was acquired...
The dress shirt is a French blue, broadcloth, straight collar. The necktie is a regular Jos A. Bank. I bought it when I picked up the suit because you just have to buy a new tie when you get a new suit, don't you? It's got a gold background with navy and blue stripes one way and brown the other way. I think "They" call that a windowpane.
See that gold thing in the coat pocket? That's a pocket square. The saleslady suggested it to expand my limited sartorial horizons. I bought into her explanation. I "folded" it in what's called a puff fold according to
this
site. I tried the straight and diagonal shells but was running out of time before church. I'll have to practice a bit and see if I can't get one of those to work. They look kind of nifty. Dandy even.
I think I'll be wearing the same conglomeration for Easter next Sunday but I'm going home so I'll just have to blog about it on the Monday after.