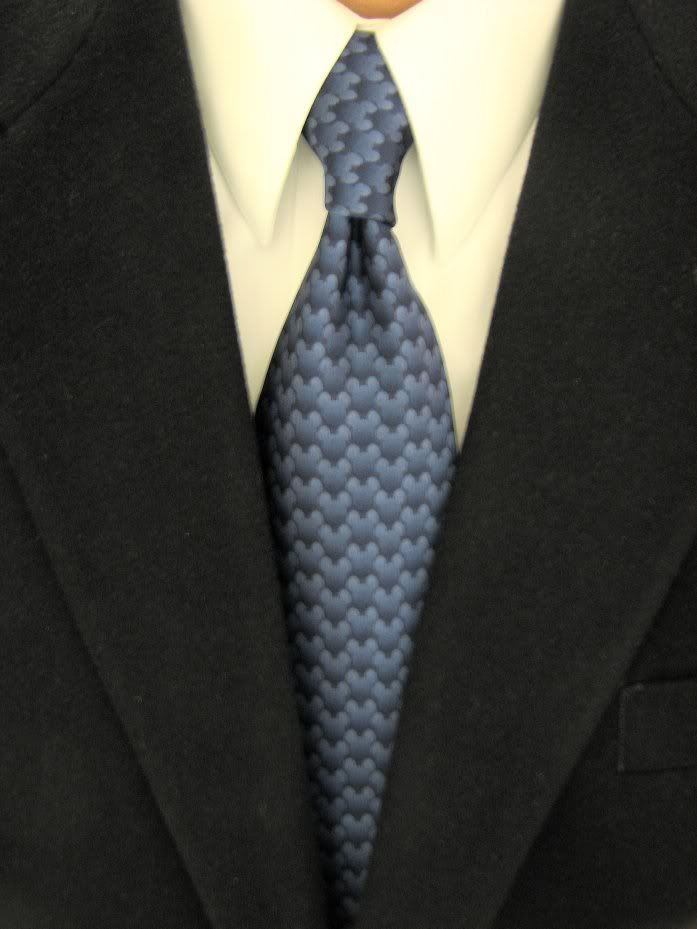 A new tie! I purchased this one on vacation. If you look at the pattern you might be able to tell where I went for vacation. I visited the Florida version of the Big Mouse's house and had a very good time.
The necktie actually has a "Walt Disney World" label and is made in China. Not a bad tie at all and even though it's one of those character ties that one is not supposed to wear to work (or ever according to some of "them"), the pattern is less than obvious.
The dress shirt really is white. And it's clean too. I bought a new camera for the trip because the old one had seen better days years ago. The rechargeables had not been charged again since vacation so the flash did not want to work. The combination of new camera and less than full batteries made for a poor picture.
I'm wondering if the compact fluorescent bulbs in the light fixture are causing the yellowing of the shirt. I'm also wondering if that's why my charcoal suit looks blue in some of the pictures I've posted. I'll have to put up with it anyway if that is the case. I've reduced my overall electrical use by about 25% thanks to those bulbs.
The new camera is a Canon Power Shot IS. I bought it the day before I left for vacation. Risky, I know, but I figured I'd have plenty of time to figure it out on the 3.5 hour flight to Orlando. It didn't even take that long before I was taking some reasonable pictures. The steepest part of the learning curve was learning the individual controls, mostly the zoom. I have not yet been able to take a decent macro type, close up picture.