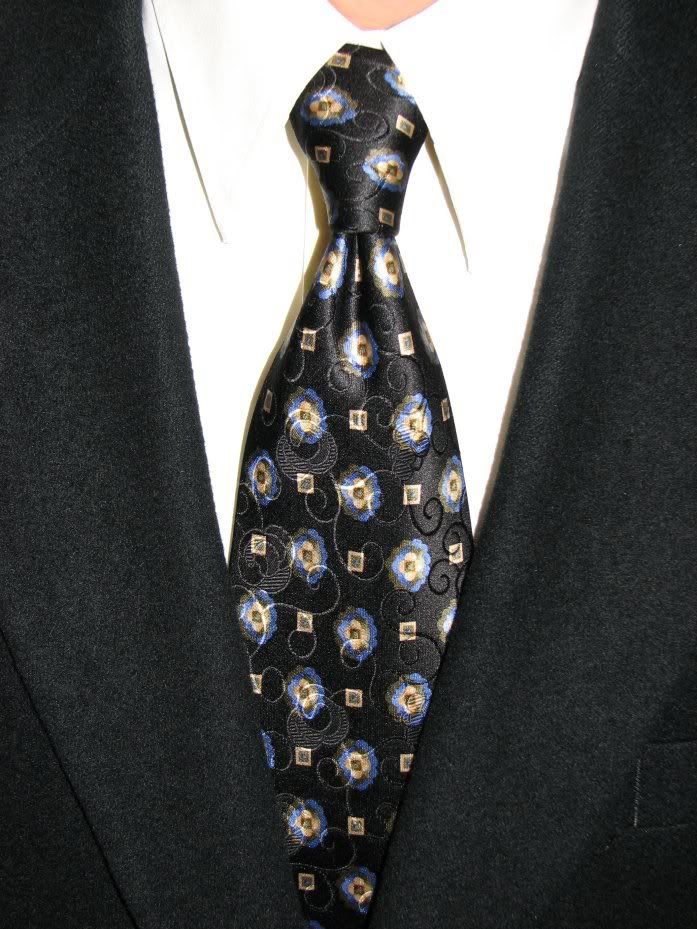 What's a blog worth if you can't quote ZZ Top at least once? The "paper" it's printed on? I doubt you'd be able to see a tie on Billy or Dusty.

Today's black tie is another Jos A Bank Signature. It's a floral pattern which I usually avoid. The jacquard weave adds another interesting texture to the overall look. The dress shirt is an off-white (ecru) point collar. I usually wear this tie with a French blue but decided that as good as my life is going right now that I really didn't feel black and blue. The black sportcoat tops it all off.

I stopped by the local Jos Bank store on the way home from work because they had a pretty good sale going. I had my eye on a gray solid suit (Signature, of course) and after they totalled it up it was half what I expected to pay. That's a really good sale! So I bought a blue tick (I think it's tick) as well (not Signature). The sale was for Father's Day, I think, and to offload the current season's leftovers. I'm not a father which is one of the greatest regrets of my life. So I started the process to join a mentoring program. I hope that all works out.